Alfa Romeo of San Diego Gets 2019 DealerRater Dealer of the Year Award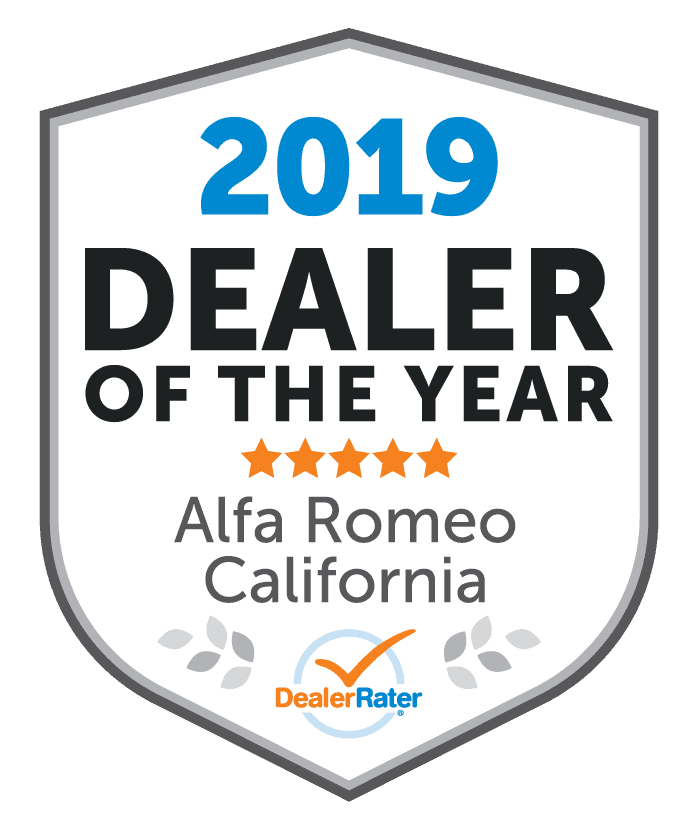 Earlier this year, DealerRater named Alfa Romeo of San Diego as their 2019 Alfa Romeo Dealer of the Year for the state of California!
That's because we earned a higher PowerScore™ than any other Alfa Romeo dealership in CA. DealerRater calculates their PowerScore based on a Bayesian algorithm that takes into account the dealership's average star rating & the total number of reviews written about them during the calendar year.
To be eligible to receive the 2019 DealerRater Dealer of the Year award, we met or exceeded the following qualifications:
Got a minimum of 25 reviews on DealerRater for the calendar year
Got an average minimum star rating of 4.0 out of 5.0 on DealerRater
Got at least 1 review written on DealerRater per quarter during the calendar year
Did not get blacklisted within the calendar year
We would like to thank our loyal customers for helping us achieve this accolade, especially those who took the time to write a review on DealerRater. We also have to thank the hard work that our staff puts in every day since many testimonials specify which members of our team helped give them a positive experience at our dealership.
What Our Customers Have to Say on DealerRater
"Nathan was awesome to work with! He was very patient, knowledgeable, courteous, and willing to do what it takes to achieve a happy customer! I also met with sales manager Hector Yorba and Colby Reed from the service department to discuss break-in procedures. Both of them were very professional as well! I have no hesitation to recommend Alfa Romeo of San Diego."
-Kevin R.
"I was helping my daughter purchase a used car. The problem was that I was on the East coast and she was on the West. We looked at many dealerships and cars. They all seemed lacking in customer service and vehicle quality. Fortunately I looked beyond dealerships that sold the particular vehicle I was looking for and found that exact car at Alfa Romeo of San Diego.

From my first interaction I was impressed with everyone that I spoke with. Pablo Bello, Ray Smith and Hector Yorba quickly earned my trust and that says a lot. When my daughter scheduled a test drive I secretly hoped she would like the car. If I was going to purchase a vehicle from 3000 miles away this is the dealership I wanted to work with. She did and we were able to effortlessly purchase that car at a great price. Very happy I found this dealership. I think you will be too."
-Ranger Bob
"My experience with purchasing a new 2019 Alfa Romeo Giulia was exceptional. Kyle Shanley showed us different cars multiple times and was incredibly patient and courteous each visit. When it came down to purchasing the car, I was concerned that I would need to spend hours there haggling price just like previous experiences I have had at other car dealerships. However, to my pleasant surprise, my experience was the exact opposite.

I came in with my best offer for the car, and Kyle Shanley and Hector Yorba countered with a LOWER offer due to my wife's family's military service. Yes, they sold me the car for less than what I offered which is something I haven't encountered before and speaks to the level of customer service offered at this dealership and their respect for the military. I wouldn't hesitate to recommend Alfa Romeo of San Diego to a friend or family member. Ten stars all the way!!"
-newalfaowner