Alfa Romeo Giulia & Ryan Reynolds Co-Star in Netflix's 6 Underground
It looks and feels like a huge Hollywood blockbuster, but 6 Underground is in fact a much-anticipated movie that premiered on Netflix this past Friday December 13. And we're talking about it since it features a custom Alfa Romeo Giulia in some pivotal scenes!
This particular model is an Alfa Romeo Giulia Quadrifoglio that's painted a neon green color that was specially made for 6 Underground. But what's not specially made for it is the 2.9L twin-turbocharged V6 engine that's equipped, which delivers an impressive 505 horsepower & 443 lb/ft of torque.
It's made for driving on handling turns on town & city roads, as well as putting the pedal to the metal on highways throughout San Diego County such as I-15, I-805 & I-5 that lets you drive up the coastline to the rest of Southern California. That's because the Alfa Romeo Giulia Quadrifoglio can go from 0 to 60 mph in as little as 3.8 seconds.
Not to mention the Alfa DNA Pro Drive Mode Selector with 4 driving modes to fit your needs, whether you're looking for speed, superior handling or just a casual commute where you live. Those modes are comprised of:
Dynamic
Natural
Advanced Efficiency
Race
We can plainly tell that the characters in the movie definitely used this Alfa Romeo Giulia Quadrifoglio's performance capabilities fully to their advantage.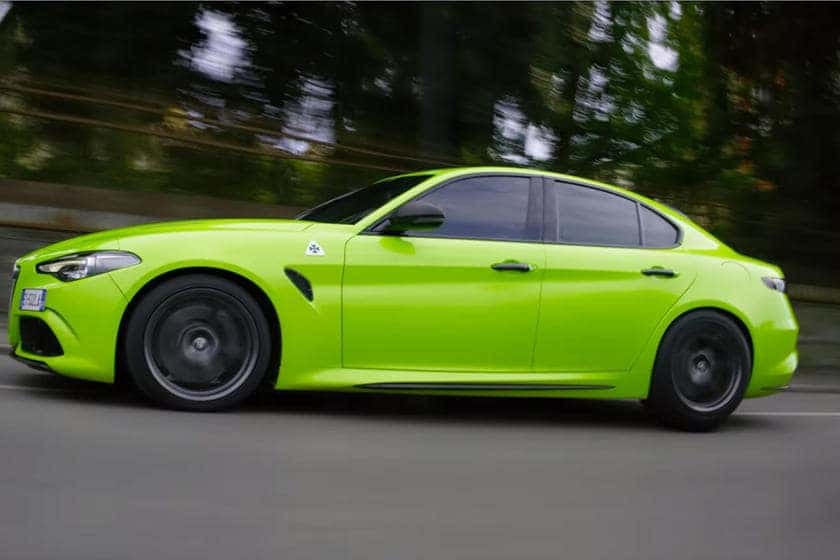 About 6 Underground
Besides this custom Alfa Romeo Giulia Quadrifoglio, 6 Underground also stars the one-and-only Ryan Reynolds, Mélanie Laurent, Corey Hawkins & numerous other talented actors. And it's directed by Michael Bay, so you know what that means!
It's full of action… and explosions! Not to mention a $150 million budget for the film that was not shot on a Hollywood lot, but rather in a place that our brand calls home: Florence, Italy. As Amon Warmann of Empire said in his review of the movie: "If you like your Bayhem pure and unfiltered, this one's for you."
And we definitely felt like it was a fun watch. Ryan Reynolds stars as One, who is a billionaire who faked his own death to put together a team with different skill sets to form a vigilante squad whose mission is take down criminals & terrorists the government doesn't want to go after.